Terug naar het overzicht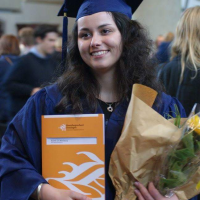 Katrin Marinova
12-10-2017
Analysis of the Bulgarian waste market for WPT
Through the International Business Talent honors programme, I have been connected with the Waste Paper Trade C.V. (WPT) company located in Winschoten, the Netherlands. The company was founded in 1994 and during the years developed and extended its markets of operations. Nowadays,  WPT is well known in almost all countries of Europe and in China.  The company trades different qualities of waste paper, used plastics and other secondary raw materials and has a leading position in the purchase and sale of those materials worldwide.
WPT`s main mission is through its activities to optimize the use of secondary raw materials and to reduce the use of natural raw materials. Through its global network, the company contributes to the protection of the environment, which will help for keeping the quality of life, appropriate for the future generations.
One of the few countries on the European market, in which WPT does not operate yet is Bulgaria. Part of the company`s  politics is to enter each country of its market slowly and by well-done research in advance. For that purpose, the topic of the Bachelor thesis on which I have been focused was to find out: What are the opportunities for WPT in the Bulgarian waste market? The whole research process continued for approximately five months, starting from February 2017, when I have started with desk research concerning the most appropriate marketing analyzing models that must be used during the research process. 
In the next stage of the research, I continued with desk research on background and statistical information for Bulgaria and the waste management structure in the country. Moreover, after this secondary research, I have contacted potential suppliers and customers for WPT in Bulgaria, so I have organized meetings with them. In April I was able to visit them and to collect additional primary data needed for the research. Based on the collected primary data, the research was more precise and allowed me to fully analyze the opportunities of the Bulgarian waste market by describing the types, qualities and quantities of each available material in Bulgaria. 
After all data collection was finalized, in May I have been analyzing this data, so the analysis showed what are the waste trading opportunities in Bulgaria and how they can be used as an advantage of the waste trading network of WPT. As the research phase of the project was finalized in June, the research showed that there are multiple waste trading opportunities for WPT in Bulgaria. Both to buy material from Bulgaria for export to other countries and to sell material to Bulgaria to the corresponding manufacturers there. Based on the conclusions and recommendations of the thesis, from July till October, I am applying the findings during a traineeship in the company.

Bedrijf
WPT
Plaats
Winschoten
Startdatum
Februari 2017
Opleiding
International Business Management
Werkgebied
Marketing
Stageopdracht
Analysing the Bulgarian market for possible entry.